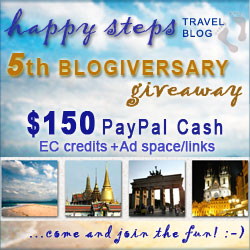 Hey you!  Do you know that there's an ongoing giveaway happening @ Happy Steps travel blog?  You shouldn't miss joining this one as the major prize is $150 in Paypal cash!  yeah, $150 is a lot of money.  Think of all the things you can buy or pay with it.  Other goodies in store for winners are Ad spaces/links and Entrecard credits. So grab the chance and JOIN!
Giveaway prizes are the following:
1 winner of $150 PayPal Cash (convertible to PHP for Philippine residents without PayPal accounts)
3 winners of 10,000 Entrecard credits (for those with valid Entrecard accounts)
4 winners of Advertising Space (125x125px) for one month at Happy Steps travel blog
3 winners of Advertising Links for one month at Ideas N Pink
Giveaway ends on September 25, 2012.
Here's the link to Happy Steps 5th Blog Anniversary Giveaway.  Go ahead and click it!